YBit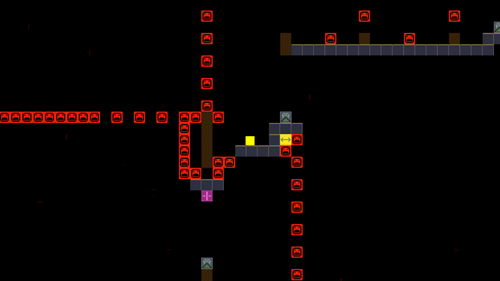 Hello, everyone!
So... lots of updates in this new version of YBit!
I am currently focused on adding content, as I feel the gameplay is working and only needs to be expanded. So, in order to achieve this, I added a new platform type that allows the player to make a double jump in the air but only while he is touching it. Also, I added a lot of new levels (more than a 50% of new levels). Since having a large ammount of levels is one of the priorities for the game, I focused mostly on this.
Others close goals that I am currently working towards are, for example, reaching more people to play the game. So, in order to achieve this, I added a Linux support and I started working in the Joystick support (which is currently working but only during gameplay). Another close goal is to keep adding content to the "plot" of the game. So I added new dialogues that are fixed to the plot and some "random" ones that will appear based on the events.
Finally, I made a few fixes and minor changes of things I wasn't convinced of. Anyway, there is still a lot of work to be done.
The list of changes:
New
Added 14 levels.
Added a new platform type.
Added joystick support during gameplay.
Added Linux Support.
Added dialogues.
Changes
Changes in the character movement.
Changes to dialogues moments.
Minor changes in the menu screen.
Minor fixes.
Now, about the future goals, this is what I plan to add in the following updates (not all of them in the next one, but hope they are in a near future!):
More levels.
More platform types.
More dialogues.
Joystick support during screens.
Pause screen.
Save and load.
Add Mac support.
At least these are the close goals for now.
Thanks for reading and hope you had fun playing the game!
Files
YBit v0.2 Windows.rar
10 MB
Jul 06, 2017
YBit v0.2 Linux.rar
12 MB
Jul 06, 2017